Hotel Room Reservations

SSSA has negotiated discounted hotel rates for you at the Sheraton San Diego Hotel & Marina, where the International Soils Meeting will be held.   

In order for us to guarantee enough of these discounted rooms for our International Soils Meeting attendees to reserve, we had to sign a contract guaranteeing that a certain amount of our attendees will stay at the Sheraton San Diego Hotel & Marina (called the block). Your choice of hotel or housing affects SSSA's ability to negotiate future contracts and discounts, as well as fulfillment of our contractual agreement with the hotel. Thus, we kindly ask that if you can, please choose to stay at the Sheraton San Diego Hotel & Marina, and register using the link or phone number provided on this website.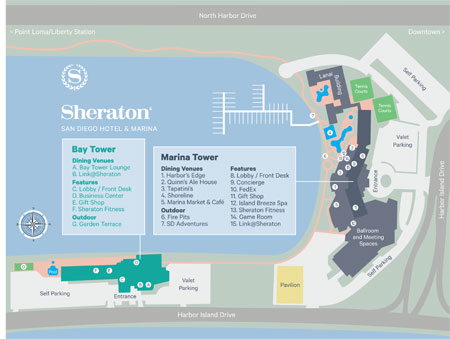 Sheraton San Diego Hotel & Marina (1380 Harbor Island Drive)  Hotel Map (PDF)
Single/ Double $219* | Triple $239* | Quad $259*
*Rates listed do not include 12.695% tax.  Resort fee waived for International Soils meeting attendees. 

To reserve by phone: 877-734-2726 and mention "SSSA" to secure the discounted rates.
The discounted rates are available on a first-come, first-served basis until the block is full or until December 21, 2018, whichever comes first. After this date, reservations will be made based on availability and the hotel may charge a higher rate.
Government rate rooms will be the first to go, so be sure to reserve early. Select "I have a Code" after you click the "Reserve Online Now" button below and enter Gov2019. Credentials will be required at check in. 

Room rates listed above include:
* Complimentary guest room Wi-Fi, iron/ironing board, hair dryer, and in-room coffee. 
* Complimentary access to the fitness center and outdoor pool.
* Complimentary airport shuttle to/from San Diego International Airport.      
Deposit
All reservation requests must be accompanied by a credit card guarantee or check equaling the amount of one night's room and tax for each room reserved.
Acknowledgments
Sheraton San Diego Marina will send an email confirmation shortly after receiving your reservation. Contact the Sheraton San Diego Hotel & Marina (877-734-2726) if you do not receive the confirmation.
Cancellations & Changes
Cancellations within 72 hours of the arrival date will forfeit one night's room plus tax charge.  Contact the Sheraton San Diego Hotel & Marina (877-734-2726) to request changes or cancel your reservation.
Questions or Special Requests?
For questions or special requests, please contact the Sheraton San Diego Hotel & Marina at 877-734-2726. Special requests are not guaranteed. The Sheraton will assign specific room types upon check-in, based on availability.